"You see that?" I'm pointing at a group of nuns ambling down the road toward us.
My buddy says, "Yeah, so what?"
We're having coffee at this small roadside café. It's a lazy Sunday afternoon, the cafe piping in Kalapana, the girl at the next table has blinding white thighs I'm gawking at. But this "idyll" has just been destroyed by the sight of the nuns.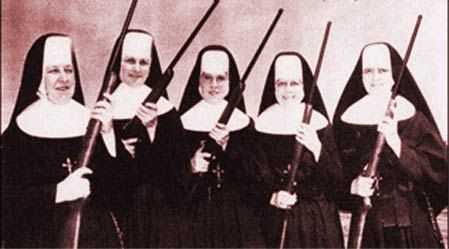 "I hate nuns," I say. "They're wasting all that sexual equipment. They make me sing that Black Eyed Peas song, 'What you gonna do wit all that breast? All that breast inside that shirt?'"
"Then you should hate priests, too."
"I don't care about priests. They're boring by default. With nuns, at least sometimes there's a saving grace. I once ran into somebody who looked like Cheska Garcia and she broke my heart with that penguin suit. Beautiful nuns make you wish you could go back in time and slit Emperor Constantine's throat. That is, if you could get past the nasty
in hoc signo vinces
crowd."
"Why Constantine?"
"Why
not
Constantine?" I say. "If it wasn't because of him, our "nuns" today would have been largely pagan, complete with fertility orgies. Wouldn't it be nice? Religion and sexual orgies. Who wants to be an atheist if you have that wonderful alternative? These days, either they bore you out of your skull with stories that never change and are as dry as dinosaur bones, or they frighten you to death with varying pictures of hell and the afterlife."
"I was having lunch the other day," I say, "when this neighbor's dog began barking. Maybe the dog was hungry. Maybe it just wanted to kick my balls and destroy my peace right at the very moment I needed it most. But I was thinking, if you'd strip religious belief down to the viscera, you'd see the simple fact that we believe in god only because we're afraid of the fires of some hell, or we're hoping to get the meat scrap of an 'eternal' reward."
"What does it tell you about the human race? It tells you that humanity, on some fundamental level of our survival instincts, are no different from dogs. We wait at tables and tremble in fear when the master's gonna kick us."
Arf!
"Religious fervor is just a matter of swelling the brain's temporal lobe. Certain drugs do that. You want to 'feel' the presence of god, get high on hallucinogens. Remember those yanomamos? They sniff hallucinogenic mushrooms to 'see' gods and demons. Ancient shamans and priests used to do that, too. Now, since they've replaced the mushrooms with impotent things like incense and saccharine red wine, it's no longer fun. The game these days is to pretend. The game these days is sing 'jesusified' rock and roll and lipsync fags like
Jamie Rivera
."
"
Jamie Rivera
is
not
a fag," my buddy snaps. "She's a woman."
"Okay. What's your point?"
My buddy stares at me angrily. "I love
Jamie Rivera
."
"Uhuh." I'm trying to digest this disturbing piece of information. "That's okay. Some people like screwing she-goats or playing the dominatrix in bed, you love
Jamie Rivera
. That's fine. That's normal."
"I think I'm having a headache."
"I have a mushroom at home. The guy who gave it to me said it's most probably a genuine hallucinogenic. Maybe you'd want a sniff. It's safe.
"You can't just do that. You should have it dried first."
"Don't they just munch it straight from the stem?"
He gazes at me. "I think I have to leave. I'm watching a DVD. The movie's title is 'Go and Fuck Yourself.' So see you later."
"Okay," I say. I watch my good friend walk down the seething road. Something rankles me; there's something odd about the movie's title that I just couldn't quite put a finger on.
And I'm thinking, I'll dry the mushroom. But I'll sniff it only after I'm sure it's the right species. After I'm sure it doesn't have deadly spores. If it's hallucinogenic, that'll be a blast. I could "tune in" like Timothy Leary. But if it isn't…it could be nasty.
Hmmm… A little experiment is in order. The Shakespearean question is: Should I assume that it's safe if my neighbor's dog survives?
***
For similar posts, see
Sacred Cows 2.0
.
Tags: